How to Play
Lottoraiser has made playing simple, you don't need a password or login information. Just fill in the ticket with your details and pay. If you continue to play, you will receive an email with a personal link, this will allow you to enter previous ticket details quickly.
Ticket Options
Each lotto ticket is unique, so the details required vary depending on the draw type.
Ticket Selection: (If local lotto uses Number of tickets) this allows you to select 1 ticket or multiples, for example "One Selection for €2 and Three for €5".
Numbers: (If local lotto uses numbers) allows you to pick your numbers for the lotto draw.
Name: Your name.
Address: Your general address.
Email: Your Email address.
AdvPlay: (Advance plays) the number of weeks you want to enter into draw with the same ticket.

Terms & Conditions: You must accept these terms and conditions if you want to play. You can click on link to see Terms & Conditions.
Draw and Results Consent: If you want to receive a reminder for lotto draws and results, please check the box.
Player Options
This is only accessible through a link sent by Lottoraiser emails, please do not disclose link to anyone!
When you purchase tickets from Lottoraiser or get the results of a closed draw. You receive a link with a special code that allows you to access the Player Options screen. On the Player Option screen you will find previous tickets, both active and non-active as well as some other options.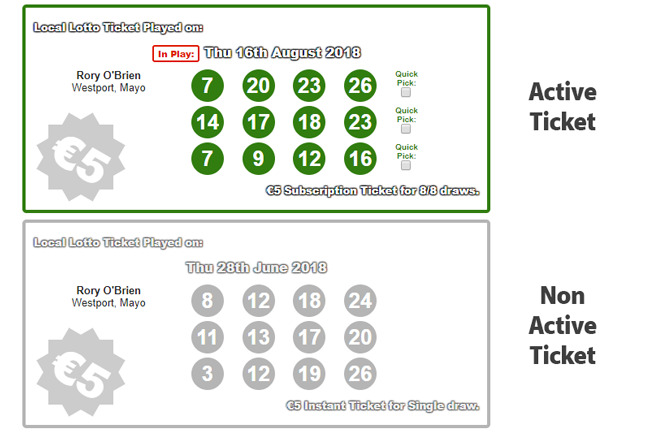 Boxes that are coloured (generally the colour of the club) are draws that you are currently playing, these are active tickets.
Greyed Ticket boxes are previous draws or non-active tickets. Tickets that have not been purchased for upcoming draw.
If you click on a ticket box, you will be taken to the ticket screen, where you can purchase this ticket with the same details.
Optional Extras
If you would like to receive the results poster or a reminder for upcoming draws, you can check the boxes at the top of the Player Options page.

The first check box, when checked, means that you do not want to be notified of upcoming draws before they happen.
The second check box, when checked, means that you would like to receive the results after they are closed.
Quick Pick Randomise Checkbox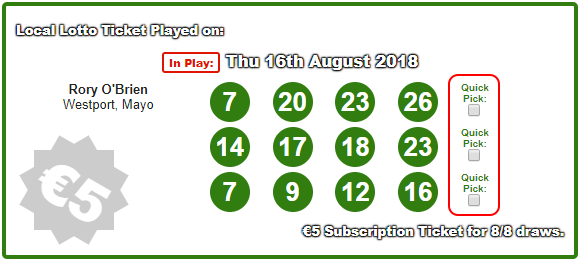 Quick Pick Randomise, Option only available for Subscription Tickets, and only comes into effect when the tickets have been purchased. This option randomises the ticket numbers each week after the draw is closed. So New tickets will be issued with a random set of numbers.
This is for tickets that are played every week, but you don't want the same numbers each week. This option gives you a set of random numbers for the line you have checked.
FAQ/Troubleshooting
I haven't got an Email Link to Access Player Options screen. Each week you'll be emailed a link that will give you access to the last 5 tickets that you have. If you don't have a link, just enter in as normal, and you will be emailed a new link when the draw is closed or when your tickets are issued. Unless you did not consent to reminders from Lottoraiser.
Numbers cannot be changed after purchase. If you have entered in wrong numbers, please contact Lottoraiser with the email and tickets issued, please let us know what you would like changed. You should give at least 24 hours before draw is set to close. We cannot guarantee numbers will be changed before they are entered into draw.
Facebook App, displays a blank screen when going to PayPal. If you are using FB app and it will not display PayPal. You can click on the menu button and select "Open in Internet". This will use your mobile device browser.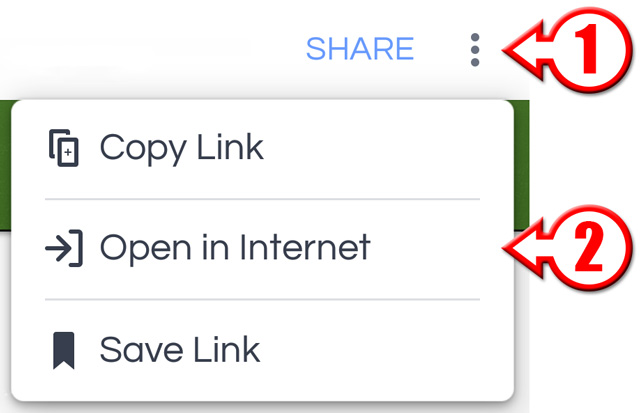 PayPal doesn't accept my Credit/Debt Card, on my mobile, wants to create an account. If you are unable to use the guest checkout on a mobile device, sadly there are only a few available options. Using a mobile device you could try again later, you could log in to PayPal or create an account. However if this doesn't work for you, a guaranteed method is to use a Desktop or Laptop computer. This will allow guest checkouts and payments with Credit/Debit cards. Thank you and we apologise for your inconvenience. PayPal explains: "The online payment landscape has changed significantly and a guaranteed account-optional checkout option isn't feasible anymore. The availability of this checkout option can depend on many factors like cookies, mobile/web, time of the day, security checks and many other variables which makes it impossible to predict."
My PayPal payment has been suspended and I didn't do this? Sometimes this happens and there is no need to worry, your payment will be re-checked in a few days' time and processed then. In the very rare case it fails a second time, it will be cancelled by PayPal automatically. You will receive an email and you can enter in again.
In the case of Subscription tickets and Cancelling before an Online Draw has closed. Please be aware that subscription tickets are based on a week to week system (or draw to draw). If you purchase a Subscription based Ticket, then decide to cancel it before the online draw has been closed. You may still be charged for the ticket, but it will not be entered into the current draw. If you would like to cancel your subscription tickets, you must cancel it after the online draw has been closed. This will keep your ticket in the current draw and then remove it from any further draws. If a mistake has been made, please contact us at info@lottoraiser.ie we can offer a refund or if you would like to be pushed over on to the following draw date.